A set of glasses for whiskey with an engraving by PFC CSKA (2 pcs.)
Artnumber: 1843028
Availability in shops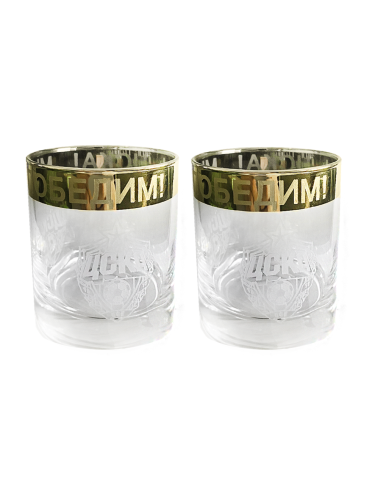 If you like the product share it with your friends on social media
Отправить по электронной почте
Отправить другу на электронную почту
A set of glasses for whiskey with an engraving by PFC CSKA (2 pcs.)
Artnumber: 1843028
Not chosen

Shopping bag 40*45 CVBP - 450.00 руб.

Paper bag PFC CSKA (kraft) - 25.00 руб.
Material: glass. Processing type: titanium spraying, color gold, glass engraving. The inscription "We are CSKA! We will win!" Is engraved in a circle.
Volume 315 ml
Important: this product is sent by mail under the responsibility of the buyer!
Цвет: прозрачный
Страна: Россия
Guarantee and refund
Guarantee and refund
Guarantee and refund