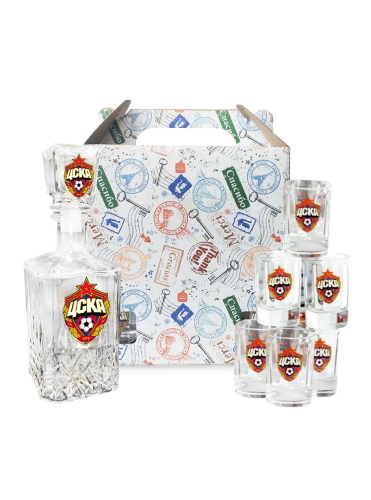 If you like the product share it with your friends on social media
Отправить по электронной почте
Отправить другу на электронную почту
Gift set Bottle decanter + 6 stacks
Artnumber: 1744001
Not chosen

Paper bag PFC CSKA (kraft) - 25.00 руб.

Shopping bag 35*40 PFC CSKA - 590.00 руб.
"Gift set consists of six stacks with a volume of 50 ml and bottle with a volume of 400 ml.
Material: glass the
Application logo: decal the
Individual packing.
Manufacture:Russia. the
Important: this product is sent by post under the responsibility of the buyer!"
Model: athletic,wide and padded straps for the shoulders, adjustable length, comfortable carry handle
Color: grey/s
Size 48 x 30 x 15 cm ( h/W/d )
Material: 100% polyester
Manufacture:Pakistan."
Guarantee and refund
Guarantee and refund
Guarantee and refund