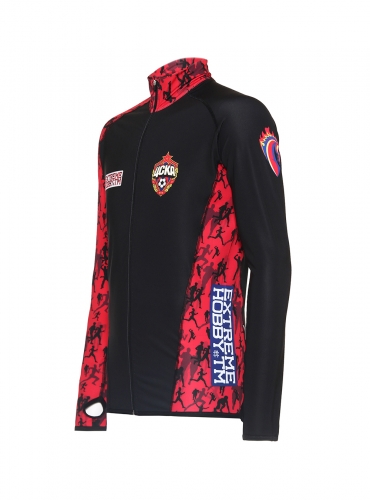 If you like the product share it with your friends on social media
Отправить по электронной почте
Отправить другу на электронную почту
Sweatshirt man's running PFK CSKA
Artnumber: 06050909
Not chosen

Paper bag PFC CSKA (kraft) - 25.00 руб.

Shopping bag 35*40 PFC CSKA - 450.00 руб.

Shopping bag 40*45 CVBP - 450.00 руб.

CVBP paper gift bag (26x22x10 cm) - 100.00 руб.

CSKA logo gift-wrap - 200.00 руб.
Men's running sweatshirt with a zipper is designed for all sports. Thanks to the spandex that is part of it, it fits the body well and does not constrain movement. Quick-drying material allows you to stay in a comfortable state longer, eliminating unpleasant odors and preventing the development of harmful microorganisms. The seams are very smooth, not noticeable when worn and do not irritate the skin. The material that makes up the sweatshirt is easy to care for: it is easy to wash, does not require ironing and does not sit down. The sweatshirt contains reflective elements, which is very important when playing sports in the evening and at night. On the back in the lumbar region is a pocket with a zipper. The sleeve has a thumb hole.
Тип одежды: Толстовка
Страна: Польша
Состав материала: 90% полиэстер, 10% эластан
Стиль одежды: Повседневный
Сезон: Всесезон
Длина рукава: Длинный
Guarantee and refund
Guarantee and refund
Guarantee and refund