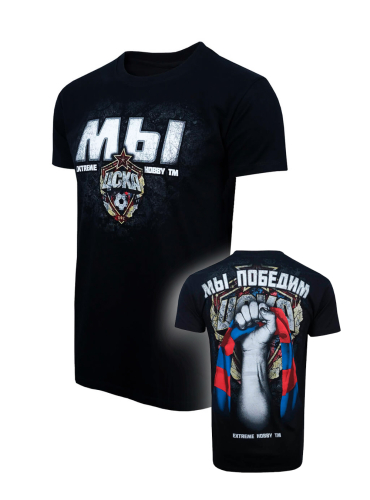 If you like the product share it with your friends on social media
Отправить по электронной почте
Отправить другу на электронную почту
T-shirt man's Extreme Hobby "We-CSKA. We will win"
Artnumber: 02012110
Not chosen

CSKA logo gift-wrap - 200.00 руб.

Paper bag PFC CSKA (kraft) - 25.00 руб.

Shopping bag 35*40 PFC CSKA - 590.00 руб.
Extreme Hobby T-shirt is characterized by high quality material. Prints are enhanced with HD effects and gel coating. T-shirt cut provides a feeling of comfort.
Model: classic p>
Application: print. P>
Individual packaging. P>
Production: Extreme Hobby (Poland). p>
Тип одежды: Футболка
Пол: Мужской
Возраст: Взрослая
Страна: Польша
Состав материала: 100% хлопок
Стиль одежды: Повседневный
Сезон: Всесезон
Guarantee and refund
Guarantee and refund
Guarantee and refund