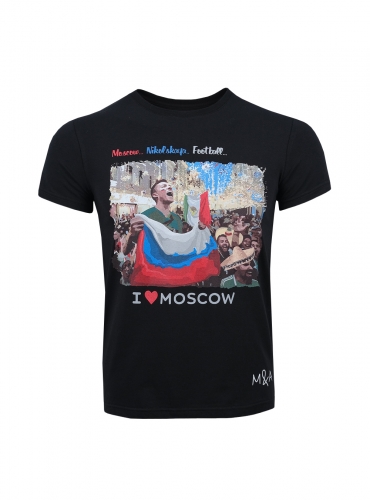 If you like the product share it with your friends on social media
Отправить по электронной почте
Отправить другу на электронную почту
T-shirt "Moscow ... Nikolskaya ... Football ...", color black
Artnumber: 02020808
Not chosen

Paper bag PFC CSKA (kraft) - 25.00 руб.

Shopping bag 35*40 PFC CSKA - 590.00 руб.

CSKA logo gift-wrap - 200.00 руб.
T-shirt in black with a print "Moscow ... Nikolskaya Football ..."
The period of the World Cup in Russia captured the minds and emotions of fans from around the world. Everyone circled and had fun, enjoying the holiday atmosphere. For a month, on one of the main streets of the World Cup, Nikolskaya absorbed the beauty of the holiday. For a month many fans celebrated victories and experienced defeats. Despite the results, people took pictures and got to know each other. You were not at the World Cup if you didn't walk at night along Nikolskaya Street. In honor of this event, a T-shirt was released, which will be a bright reminder of those happy moments.
T-shirt consists of 95% cotton, 5% lycra.
Тип одежды: Футболка
Пол: Мужской
Возраст: Взрослая
Цвет: черный
Страна: Россия
Состав материала: 95% хлопок, 5% лайкра
Стиль одежды: Повседневный
Сезон: Всесезон
Длина рукава: Короткий
Guarantee and refund
Guarantee and refund
Guarantee and refund