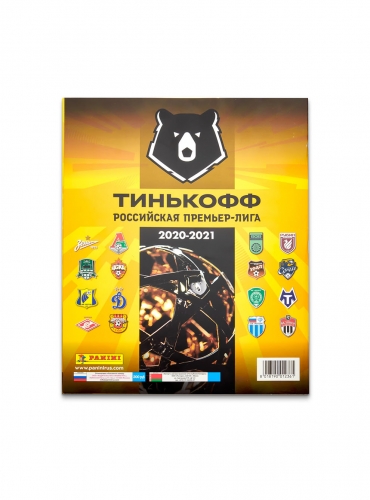 If you like the product share it with your friends on social media
Отправить по электронной почте
Отправить другу на электронную почту
Album for collecting stickers RPL 2020/2021 Panini Collections
Artnumber: 48141712
Not chosen

Paper bag PFC CSKA (kraft) - 25.00 руб.

Shopping bag 35*40 PFC CSKA - 590.00 руб.
Album, 40 pages. Used to store stickers, dedicated to the 2020-2021 season of the Russian Premier League. New album and stickers for the 2020-2021 season features 16 clubs, home stadiums, key players and the tournament table. Each team is represented by 18 stickers with the logo and football players.

Stickers are sold separately in opaque bags. Each bag contains 5 stickers. Every time you get purely random cards.
There are 372 stickers in the collection, including 340 basic cards and 32 shiny cards.

Specifications:
• material: coated cardboard and paper • brand country: Italy / Russia

Suitable for 6+ years old collectors
Package dimensions:
ALBUM 232 x 287mm
Package weight: 200g.

Guarantee and refund
Guarantee and refund
Guarantee and refund