Chocolate medal PFC CSKA - Winner of the UEFA Cup 2005 (25 years old)
Artnumber: 60210805
Availability in shops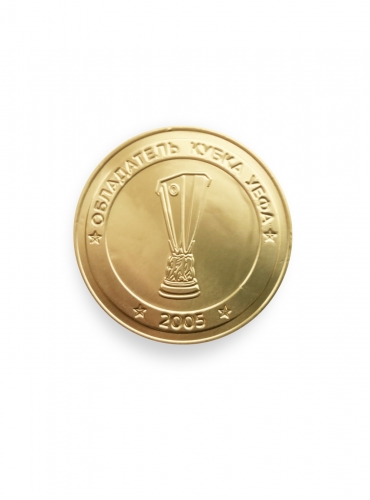 If you like the product share it with your friends on social media
Отправить по электронной почте
Отправить другу на электронную почту
Chocolate medal PFC CSKA - Winner of the UEFA Cup 2005 (25 years old)
Artnumber: 60210805
Not chosen

CVBP paper gift bag (26x22x10 cm) - 100.00 руб.

CSKA logo gift-wrap - 200.00 руб.
This chocolate medal is a simple but nice souvenir with the imprinted UEFA Cup and the PFC CSKA logos on a gold wrapper. This pastry can be a pleasant gift to acknowledge a memorable event. Moreover, these medals have a rich, deep flavor of varietal chocolate. Our 2005 victory still tastes very sweet!
Страна: Россия
Состав материала: Молочная глазурь (сахар, заменитель масла какао нетемперируемыйлауринового типа, какао-порошок, сухое обезжиренное молоко, эмульгаторы (соевый летицин, Е476), ароматизаторы: "Ваниль", "Молочный крем"
Guarantee and refund
Guarantee and refund
Guarantee and refund