Home
Catalogue
Football form
Training form
Form
Black friday
Russian Football Premier League football uniform
Football equipment
Russian Football Premier League football uniform
Champions League football uniform
Football equipment
Accessories
Ball
Game form 2021/22
Game form 2020/21
Game form 2018/19
Training form 2020/21
Children`s form
Training form 19/20
Final sale
The goalkeepers`s form
Training form 18/19
Adidas Sales
Goalkeeper form 2017/2018
Sports shoes
Retro form
Masks of the CSKA players
Flags
Labels, stickers
Scarfs
Training uniform
Clothes
T-shirts and Polo
Pennants price
Men
Sweatshirts and hoodies
Women
Pants and shorts
Children
Outerwear
Trackpants, shorts
Sportswear
Outerwear
Clothes for sports
T-shirts and polo
Custom Clothing
Hoodies and sweatshirts
Women's clothing
Socks
Rugby Club CSKA Moscow
Pants, shorts, dresses
Stoles
Clothes for sports
Sportswear
Custom Clothing
Tippets
Dresses
Babys (size 62-80)
Hoodies for women
Game form 2022/2023
Casual wear
T-shirts for women
Children's football form
Products for kids
Training form
Knee socks
Head wear
Children accessories
Ghildren clothes
For children
Children's hats
Clothing
Souvenirs
Men's clothing
Scarves
Toddlers (size 80-128)
Household products
Women's clothing
Toys
Teens (size 116-164)
CHILDREN`S FORM
Children's clothing
Custom Clothing
For computer
For kitchen
Toothbrush
Towels
Bathrobes
Slippers
Toys
Game Consoles and Joysticks
Mouse pads, flash drives, batteries
Power banks
Plaids
Covers for gadgets
Pillows
Blankets, pillows and linens
Bedclothes
Tableware
Boards for meat
Mugs, glasses, piles
Alarm clocks and wall clocks
Game console
DVD, CD
Slippers
Alarm clocks and wall clocks
Pastry
Key chains
Picture
Slippers
Pennants
Lamp
Interior items
For cars
Pendants and tokens
Armchairs
Lighters
Badges
Pictures
Baguettes
Cards for autographs
Cards
Autographed balls
Autographed Game T-shirts
Attributes
Summer
OTHER ATTRIBUTES
Gaming consoles and joysticks
Goods with autographs
Soft toy
Gift wrapping
Different
Pens
Key-rings, lanyard
Chevrones
Stickers
Accessories
Gift Ideas
Head wear
Stationery
Red-blue lines
Liquidation
Black Friday
Games and toys
Bracelets
Magnets
For mobile phones
Badges
Ties, gloves, stoles
Lighters
Stripes
Gifts
Leather goods
Puzzles, cards
Wallets
Gift certificates
Socks
Gift Baskets
For children
Gift wrapping, cards
Confectionery
For cars
Baseball caps, hats, bandanas
Books, posters, calendars
Figurines
Gloves, pulse bands
Belts
Souvenir coins
Backpacks, bags, heberdashery
Collectible Icons
Watches, jewelry
Pennants
Posters
Stickers
Printing production
Books
Pen cases
Post cards
Notebooks
For animals
Notebooks
Calendars
Baseball cap
Exclusive
Handmade fair
Backpacks
Hats
Gifts
Bags
Programm season 2016/2017
Haberdashery
Bandanas and shawls
Gift certificates
Cell phone
Gift Baskets
Gift wrapping
Champions League
Post cards
On sale in the official store
Exclusive
Retro form
Hockey attributes
Sale Umbro
Fifa world cup 2018
For children
Adult
Sale Adidas
Liquidation
Things that will comfort the fan in any weather
Fan kit
Akinfeev Collection
Sportswear
products to order
Accessories
Game form old
Attributes
Form
Household products
Collection black
Souvenirs
Clothes
Champions league
Head wear
HEAD WEAR
Casual wear
stock
Away game t-shirt with long sleeves 2021/2022 (ICS Holding)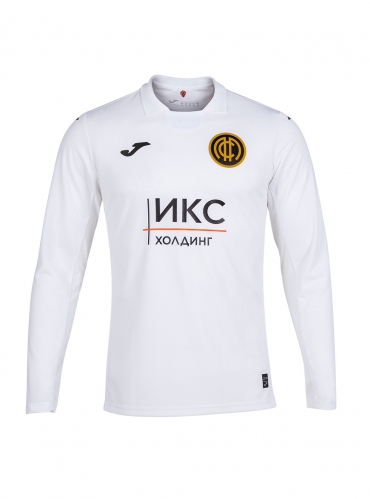 If you like the product share it with your friends on social media
Отправить по электронной почте
Отправить другу на электронную почту
Away game t-shirt with long sleeves 2021/2022 (ICS Holding)
Artnumber: BB102415A200
Not chosen

Paper bag PFC CSKA (kraft) - 25.00 руб.
The away uniform comes in a retro design and is dedicated to the 110th anniversary of the club. It resembles the outfit of players who played for CSKA at the beginning of the last century. Instead of the modern logo, it has the logo of OLLS - the organization that founded the Central Sports Army Club. The collar has embossed "110 years", and there is "1911-2021" print on the back.
The retro kit was manufactured out of recycled materials. This helps to reduce the negative impact to the environment.

Страна: Китай
Состав материала: 100% переработанный полиэстер
Guarantee and refund
Guarantee and refund
Guarantee and refund